Art Store
Customizable Frame
One Invisible Connection
4K UHD TV
Enhance your everyday space with art
* Actual Product may differ from image shown. Please see our product gallery.
Art Store
Bringing world-class galleries to you
Discover a wide art collection in the Samsung Art Store. When you sign up for paid Membership, you gain unlimited access to an exceptional range of artwork and photography, spanning the classics to the contemporary.
* The Art Store may not be available in some countries.** Art pieces in the Art Store are subject to change without prior notice. *** From July 6th, 2018 to May 30th, 2019 receive a free customizable frame and free six-month subscription to the Art Store when you buy The Frame. (Learn More)
Find Art by categories
Choose from colours to composition, experience an easy way to find art you love for all occasions.
Partners
Enjoy art curated from world renowned institutions like ALBERTINA and SAATCHI ART on The Frame. With one click, you can find amazing collections on The Frame's Art Store. You choose the style, it delivers the art.
*Available Art displayed may differ from image shown.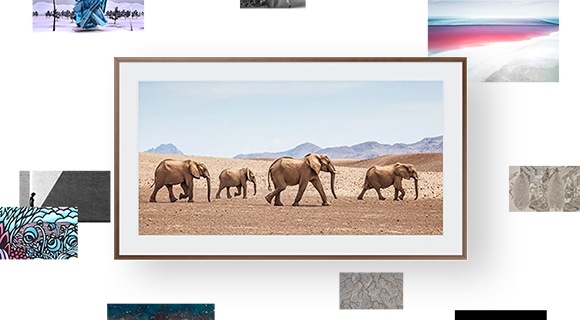 Samsung Collection
Update your space or simply enjoy a different view by choosing artwork and photographs by outstanding artists. Browse through a body of work, specially curated for The Frame, and add culture to your daily life.
My Collection
You can easily upload and exhibit your own photography—or a new family portrait. Simply send your photos to The Frame via your phone or a USB flash drive.
* Personal photos uploaded to The Frame will be displayed at the original resolution. Displaying 4K(3840*2160 pixels) and above images is recommended.
Customisable Bezel
The choice is yours when it comes to The Frame. Pick the ideal customizable frame for your space, taste, or artwork—magnets make it simple to attach and detach for a different style.
One Invisible Connection
Make better use of your space. With a single, nearly One Invisible Connection, you can connect all devices without any messy tangled wires. Connect invisibly with The Frame.
*The invisible Connection refers to a single optical cable connected to the One Connect Box integrating certain external devices cables, but it does not refer to the power cable of the TV or cables connected to other devices such as the soundbar.
One Connect
The slim, One Invisible Connection connects every device to the TV through the One Connect Box, allowing you to place the connected devices further away, so you can use the space for your decor.
* Devices must be connected to One Connect.** Compatible devices only.
No Gap Wall-Mount
Installing The Frame is simple and quick, and you can just tilt it sideways, back, or forward for the ideal view. Gorgeous from all sides, it fits perfectly in your space.
* Measured from rear end of the TV, the gap may differ based on the installation and wall type. ** A small gap between the wall and TV may occur if wall is not 100% flat or is constructed off-angle to the floor or if installed incorrectly. *** The actual angle when tilting may vary by product size.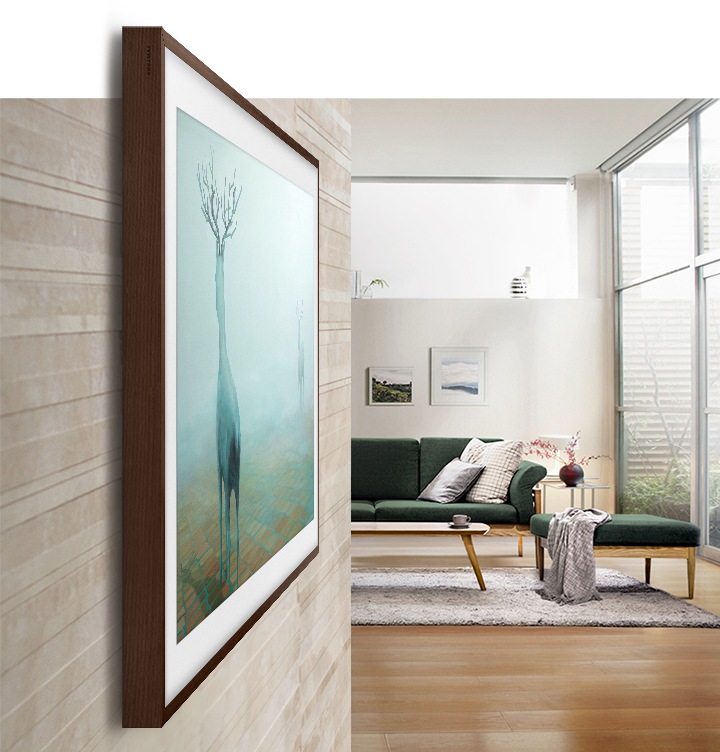 Stand Options
Transform your room into a gallery
Think differently. Put your Frame TV anywhere you like with various TV stand options that match you and the style of your interior.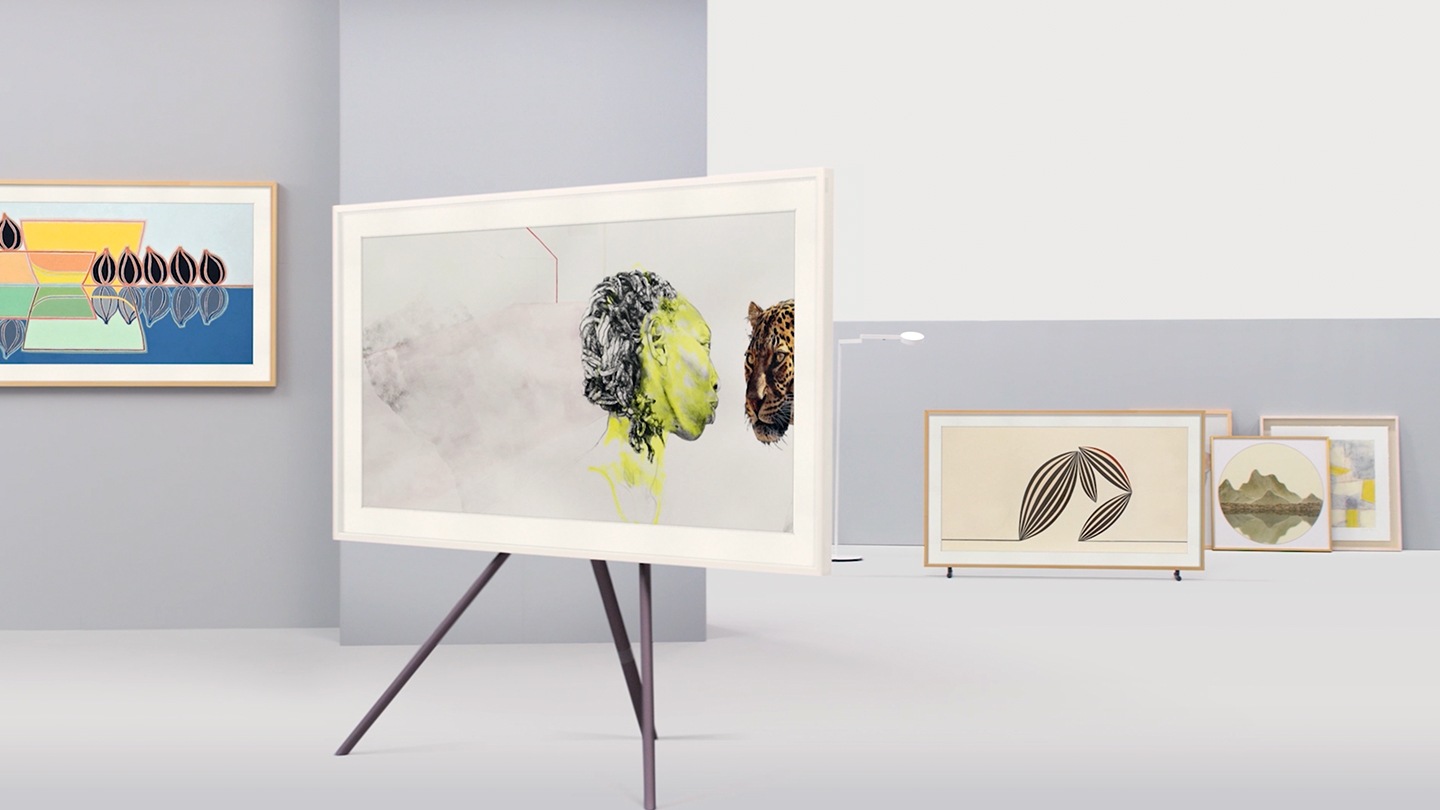 * Based on region or model, the Studio Stand may be sold separately.** Studio Stands are compatible with 55″/65″ The Frame TVs.
Multi Layouts & Colour
Customizing the presentation of the art to fit your space is simple on The Frame. Choose from different options to find the matte layout and colour that best complements the pieces.
* Some matte layout options are only available through the mobile app.** Matte layout options may differ based on content type.*** Matte: The blank area that serves to highlight the art piece within the frame.
Favorites
Curate your own personalized gallery using favorite art pieces in your living room. Select and mark the pieces you like as favorites and see them all in one place.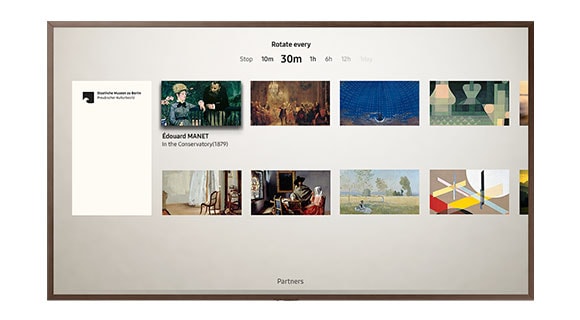 Time setting for Slideshow
Enjoy the art pieces you like at the time that you want. Select the art pieces you want to see and set the time on how long you want it to be shown on screen.
Brightness Sensor
By detecting the ambient light, the Brightness Sensor automatically balances the screen's brightness and colour tone for a natural illumination. So whether it's day or night, you can see your art how it was meant to be seen.
* Performance may vary depending on the ambient brightness level.
Motion Sensor
When you're nearby, the Motion Sensor detects your presence and turns the screen on, so you can enjoy your favorite art while you're there. When you leave, it turns off to save energy.
* Motion sensor operates when turned on in Art Mode. Performance may vary depending on lighting condition.
The Frame 4K UHD TV
Prepare to step up your viewing experience with UHD resolution. Four times more pixels than Full HD means four times the resolution, for a noticeably clearer picture.
* As compared to previous models of Samsung TVs. Dramatization for illustrative purposes only. Visit an authorized retailer for a true-to-life comparison.
HDR
Watch HDR content with better clarity and detailed colour expression. Samsung UHD TV gives you more accurate details in bright and dark scenes.
* Compatibility with all HDR content is not guaranteed.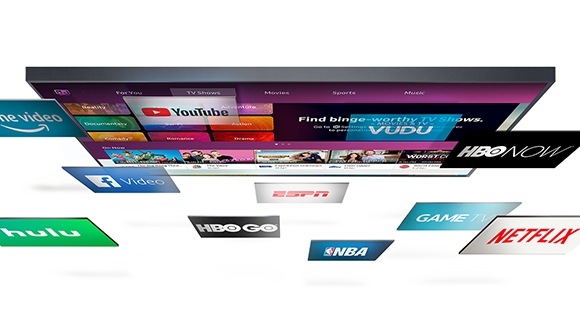 SMART
Quickly and easily adjust The Frame TV with the One Remote Control. It's easy to change the art, the settings, and the channel. And you can access the Smart Hub to enjoy a variety of content.
* Images are simulated and for illustration purposes only. The appearance and design specifications which is not affecting to product performance are subject to change without notice** You can start using the Smart TV services after you consent to the Smart TV Terms and Conditions. Pursuant to Samsung's Privacy Policy, Samsung may process your information when you use the Smart TV.*** Smart service and GUI(Graphic User Interface) may vary by model and region.**** All devices must be on the same network and Internet connection is required.
Easy to use
Easily control all connected devices and content with just One Remote Control and your mobile. Adjust the settings or find new artwork to display. Easy to find, easy to use.
* Compatible devices may vary by region.** Actual product and remote control may differ from image shown.*** Must download and install the SmartThings app.