Samsung Chef Collection's premium line of home appliances is an elegantly thoughtful combination of cutting-edge technology and truly useful, chef-influenced features that are coupled with a sleek, seamless design for ultimate flexibility that caters to how people cook and live today.
Modern Design
New Chef Design
The New Chef Design will seamlessly harmonize with your kitchen furniture and appliances. The handle's new design has a sleek, modern polygon shape that blends effortlessly with the door for an elegant and stylish finish.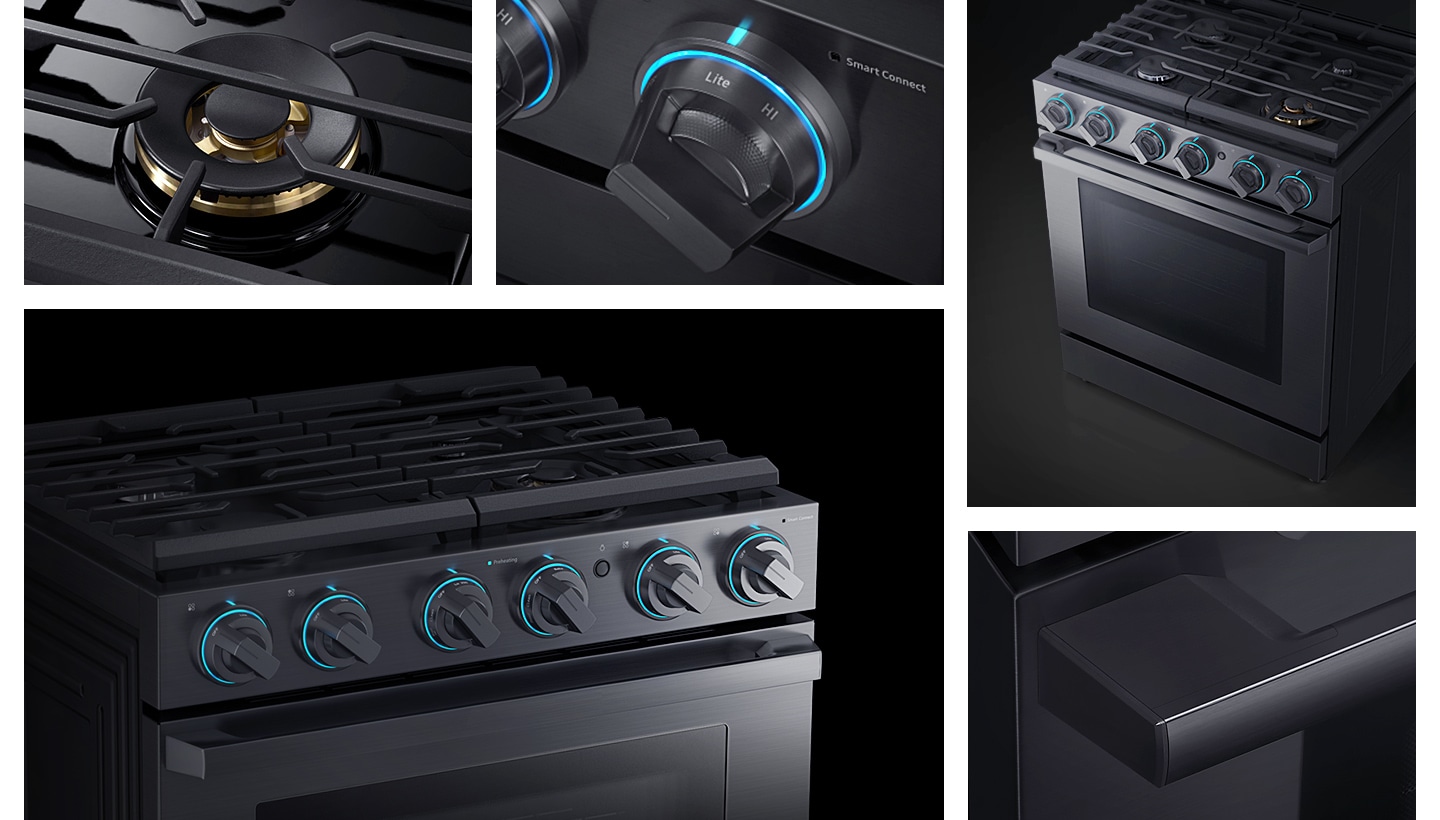 Powerful Heat & Precise Simmering
22K BTU Dual Brass Burner
Cook dishes quickly and evenly using the powerful heat and precise control of the 22K BTU Dual Brass Burner. It can rapidly go to a high heat for searing meat, like a steak, and boiling water in a flash. Or you can turn it right down to a gentle simmer-ideal for melting chocolate or boiling milk.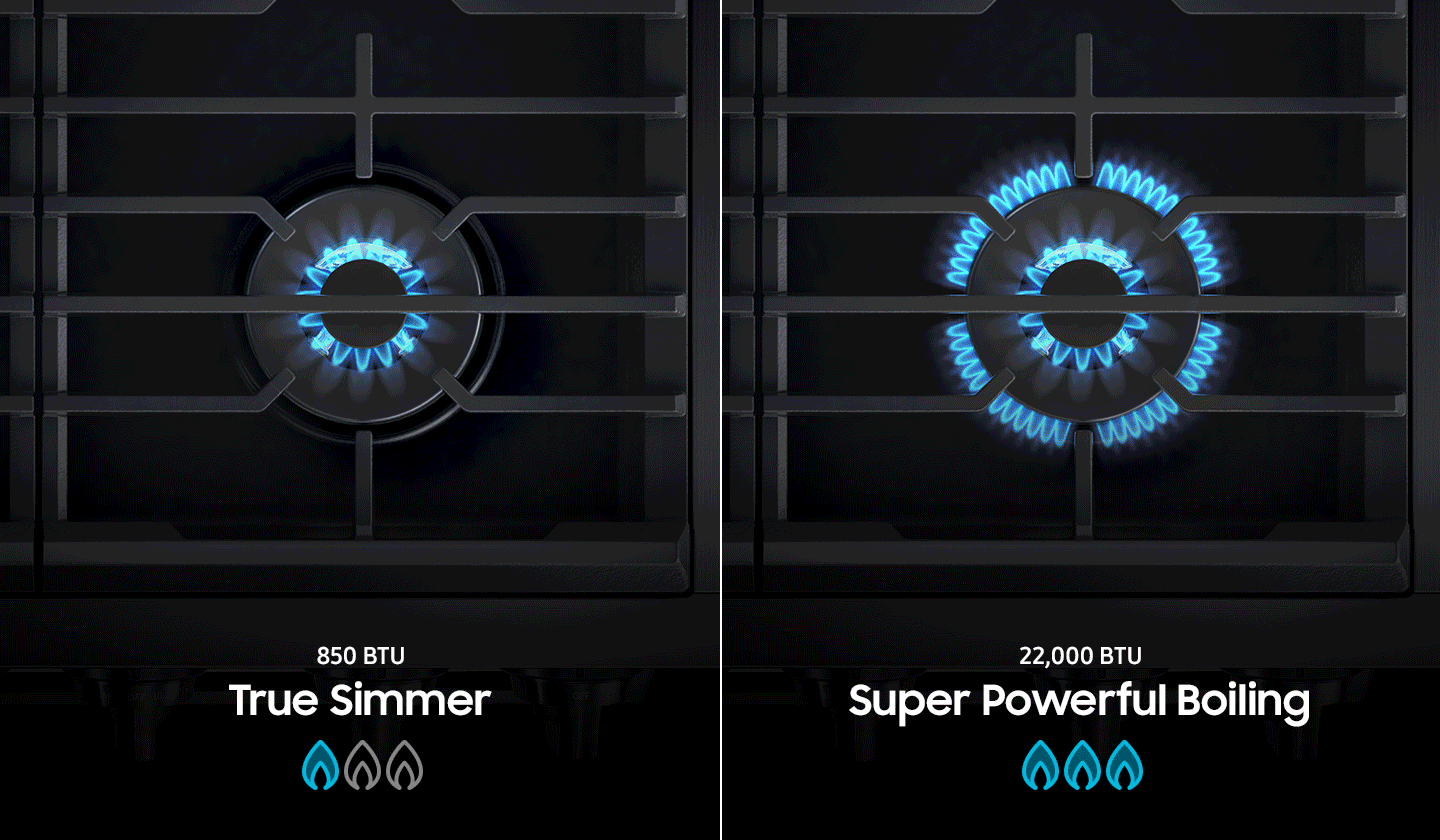 Large Capacity
5.8 cu. ft. Capacity
Create more variety and larger dishes with a huge 5.8 cu. ft. capacity oven.
Faster and More Thorough Cooking
Dual Convection
Save time and cook food more evenly with a Dual Convection system, which is great for baking and broiling. Two heated fans distribute heat all around the oven and keep the temperature constant everywhere. Dishes are cooked quickly and thoroughly and you can enjoy tastier meals every time.
Intuitive Burner Control
Blue Illuminated Knob
Distinctive blue LED lights illuminate when the cooktop is in use.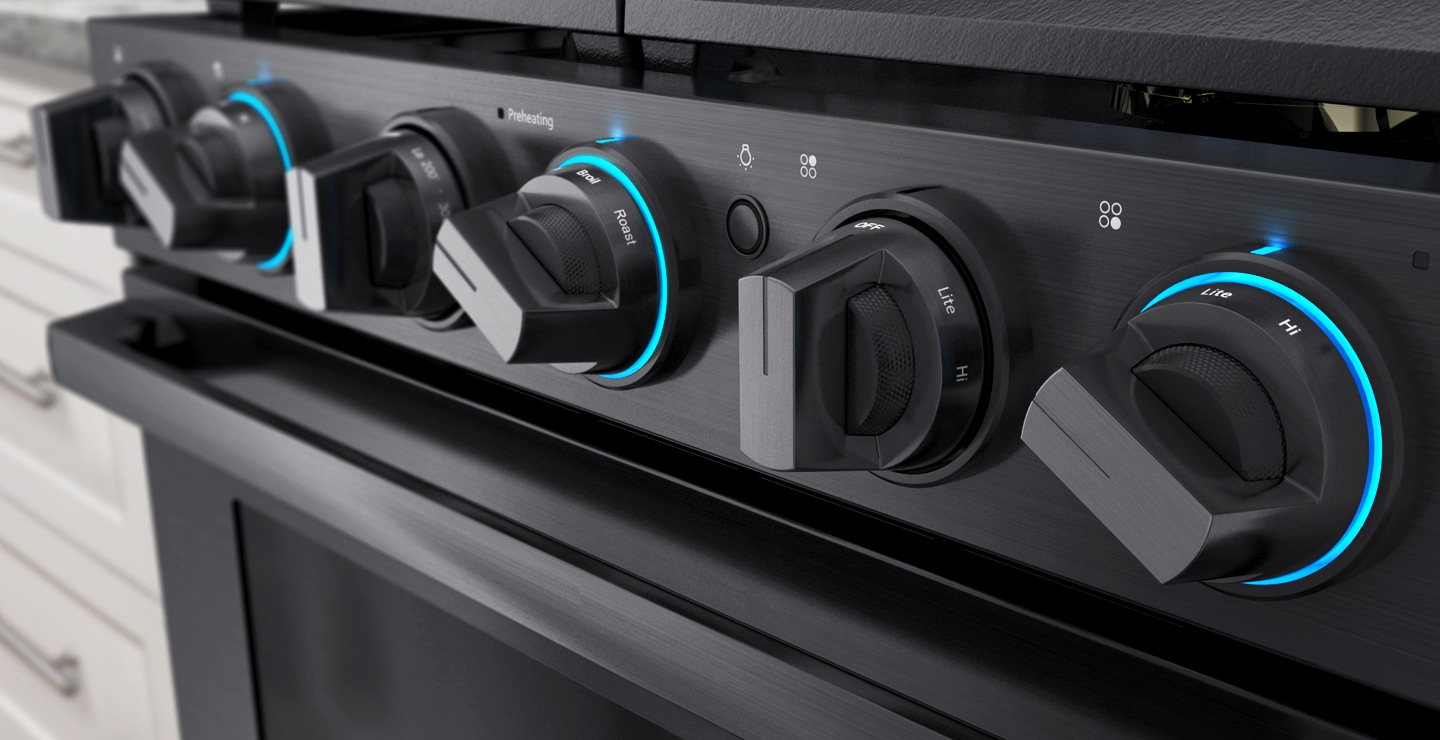 Bluetooth Connected
Bluetooth Connectivity
Bluetooth connectivity automatically starts the hood* when the range turns on.
*With compatible Samsung ventilation hood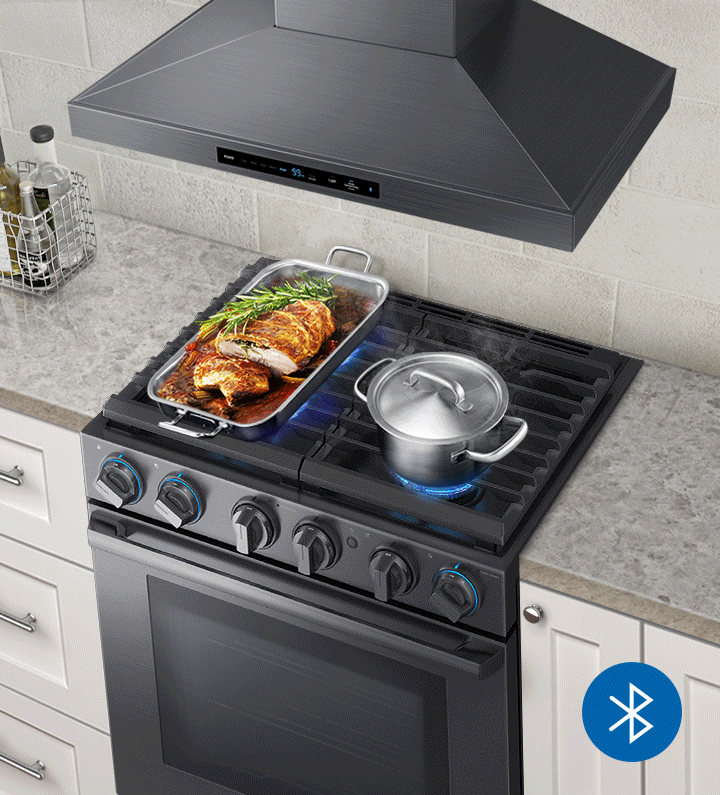 Monitor from a distance
Wi-Fi Connectivity
Wi-Fi connectivity maximizes safety and offers peace of mind by letting you remotely monitor the oven at any time using a smartphone App.*
* Available on Android and iOS devices. A Wi-Fi connection is required. ** Remote burner ignition is not supported due to possible safety issues.
Custom Wok Grate
Wok Grate
Easily accommodate a round bottom wok on the custom wok grate. Its circular design fits snugly around the burner so that heat is quickly and evenly distributed and you can enjoy delicious stir fried food. The custom wok grate is included with purchase.
Closes gently and quietly
Soft Close Door™
Features a unique door hinge that slows the oven door's speed for a safe and gentle close.
Strong support
Gliding Rack
Features a unique ball bearing design that allows the rack to glide in and out with ease.